Last week, I had the pleasure of hosting a webinar with our partner Flexera entitled "Time is up for Windows 7: How to position your organization for Windows 10 and beyond". If you missed it or you had to drop out during it, don't worry — you can access the on-demand version below.
[Watch the webinar on demand now!]
But it is such an important topic that I wanted to write up a few key points and share the slides with you.
Windows 7 Is Going End-Of-Life In Less Than 10 Months, But Market Share Goes Up!?!
We started the webinar by reminding everyone that the extended support for Windows 7 runs out on January 14th, 2020. Microsoft has given organizations an additional grace period until April 1st 2020, but after that enterprises will have to cough up between $25 to $50 per device (depending on the OS edition) for custom support agreement payments — which will escalate, possibly even double, after the first year.
Although Gartner predicted that 80% of enterprises would have completed or at least started their Windows 10 migration by 2018, we are not seeing the full-scale adoption of Windows 10 as expected. Interestingly, the market share for Windows 10 has actually dropped last month to 40.3%, while it increased for Windows 7 (to 38.4% of all PCs) by a small percentage. This indicates that many organizations are stalling with their migration efforts, or that projects are only just starting now.
This hesitation is partially caused by the fact that by migrating to Windows 10, you inevitably have to move to an Evergreen IT management treadmill. In other words, you will have to figure out how to run a continuous upgrade cycle every six to twelve months rather than doing big bang migration projects every four to five years.
In addition, there is a significant budget of $693 per device (on average) required to make the initial transition to Windows 10. Once there, Gartner estimated that it will cost organizations between $40 and $69 per device per annum to maintain the latest versions of Windows 10, depending on how well managed the IT estate is.
Getting Control of Your IT Estate & Understanding Application Compatibility
The first step to positioning yourself for a smooth transition and later upgrades is to understand exactly what your IT estate looks like in its current state. This means understanding what hardware you have in house and where they are in their lifecycle, as well as getting actionable insights on what applications are installed, which are compatible out-of-the-box, and which aren't.
This requires you to create a huge data set containing all installed devices and installed applications including the manufacturer, product name, version number, and much more. This can easily reach several million rows of data.
As you can see below, you will quickly run into a massive data problem: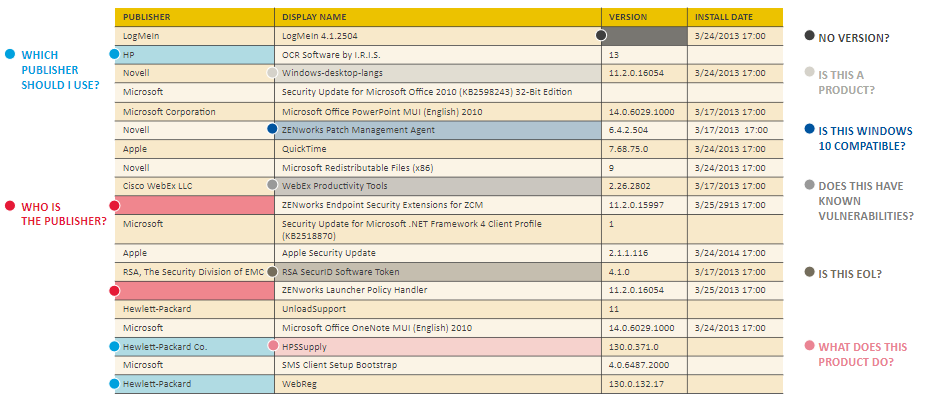 At this point you have two choices: you either dedicate significant manpower for several months to comb through the data or you automatically normalize and rationalize the data by leveraging the Flexera de-facto technology asset repository, Technopedia. It includes over 2.4 million hardware and software products and more than 150 million market data points. It also receives more than 2,500 updates daily.
This will not only give you a clean and normalized overview of what you have, but provides you with actionable insights on compatibility. It might surprise you to know that 44% of applications today installed in enterprise environments are actually end-of-life and only 25% are compatible with Windows 10 without any further action. Of those 18% that are not compatible, only 22% have a paid upgrade path while 18% can receive free upgrades.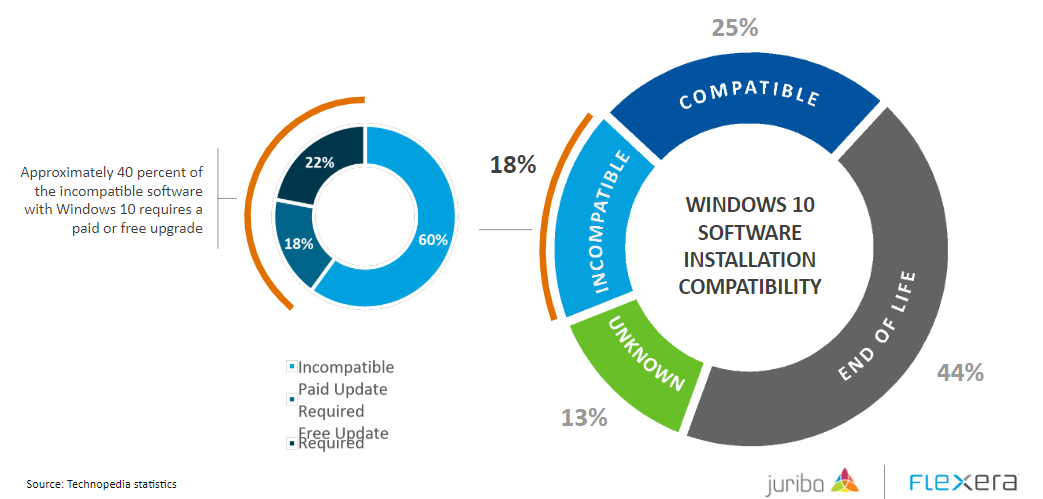 All this data is fed right into Juriba's Dashworks Command & Control Platform. Now it is time to turn that useful information into action!
How To Achieve Maximum Project Velocity
Traditionally, OS migrations were managed in dozens or even hundreds of cumbersome spreadsheets, there was no clearly defined process, status reporting was inconsistent at best, and prioritization was more a knee-jerk reaction than strategically planned.
Not surprisingly, most projects stall in the discovery and assessment phase (see solution above) and project delivery command and control phase. If managed inefficiently, costs and timescales can balloon and generally the project becomes a nightmare to deal with.
Now, in this new Evergreen IT world, OS migrations become a 'process' rather than a project. The process frameworks are standardized. Prioritization and readiness tracking take a data-driven approach. But maybe most importantly, all team members and stakeholders have access to a single pane of glass and reporting is instantaneous.
The secret to success here is migration velocity — a much talked about concept, but very difficult to achieve because of the many moving project parts and dependencies. This can be achieved by targeting the lowest hanging migration fruit in your application estate. Essentially, you choose the best application each time to drive the fastest conversion of green devices.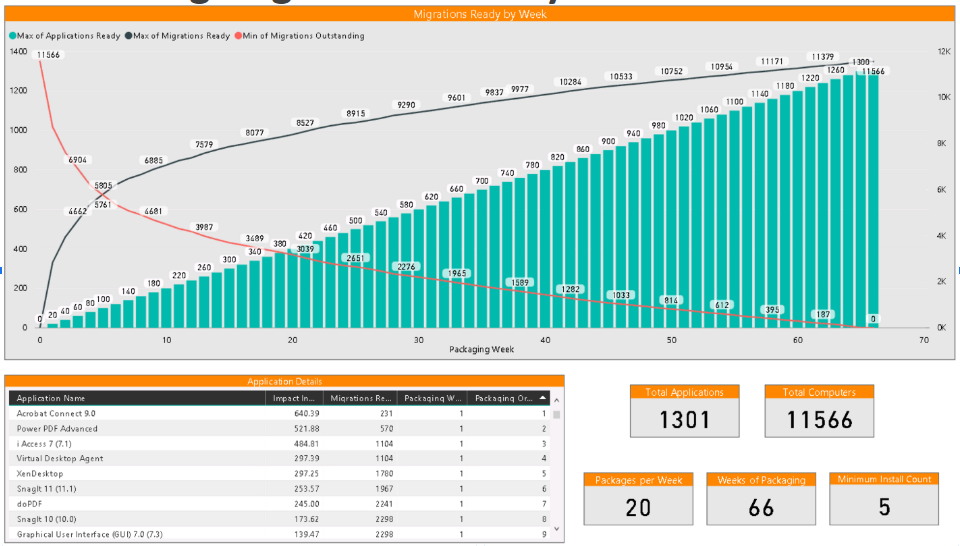 By using Juriba Dashworks, you can easily identify the mathematically quickest route to get all of the devices to a "Green" state. Simply run our algorithm against the data to generate a priority list of applications in a 1 to N order. Once you remediate these, you will enable the highest amount of application-ready devices in the fastest possible time.
This approach can help drive velocity for any Windows 10 or Windows 10 servicing project, especially where there is a huge amount of application complexity. The best solution for this is to implement a project command and control center that is constantly in sync with your environment.
Developing Your WaaS Strategy & Building an Evergreen IT Lifecycle Management Strategy
Because this isn't just a technical process, which is the common pitfall that most organizations fall into, we have developed a repeatable, industrialized process that breaks your continuous WaaS Management process into five distinct phases:
[Download our WaaS Project Plan Template for easy and efficient upgrade cycle management.]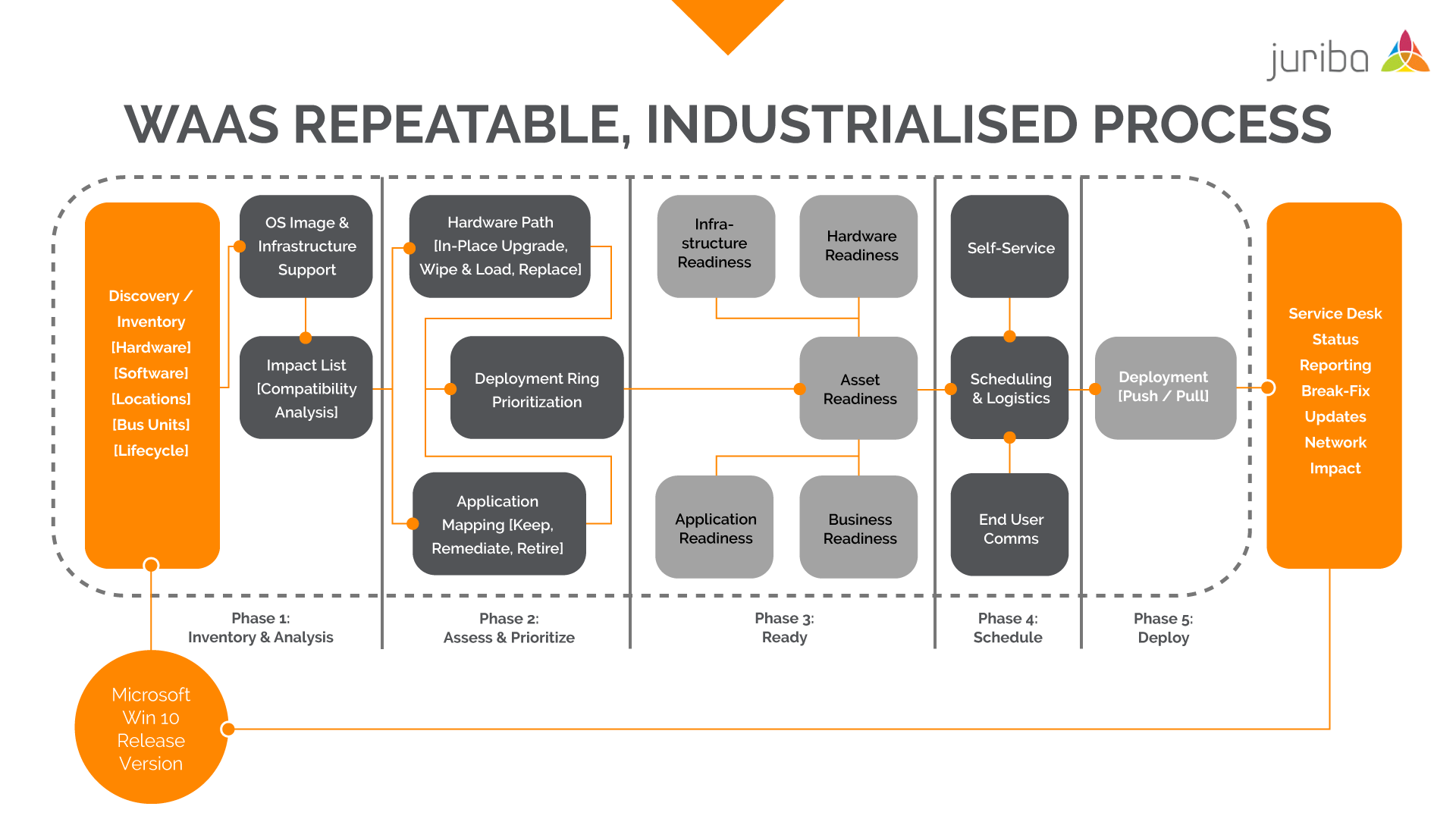 Inventory & Analysis. Baseline your environment, e.g., who is using what, where, for whom and how. You will be re-creating your core image, making any settings changes that correspond to new Windows 10 functionality. In parallel, you need to assess your environment to scope the effort required for this upgrade, e.g., which hardware and applications will still work, and which will need replacing.
Assess & Prioritize. Now that we know what we need to do, each asset must be categorized for both the hardware and application upgrade path. We need to define our deployment rings and prioritize our remediation work.
Readiness. Now we can start tracking readiness. But in addition to application and hardware readiness, we also have to ensure infrastructure (e.g., Configuration Manager) and business readiness (e.g., business unit might have a major application release that necessitates a change freeze).
Schedule. Now that your devices are turning green, you can move into scheduling and logistics. We recommend here that you employ self-service to drive both rationalization efforts and migration volumes. To ease the heavy lifting of this phase, automate your end-user communications as much as possible.
Deploy. Finally, the technical deployment. Often this will be capacity constrained, both in terms of the network and service desk.
Since this will be a continuous cycle, you will cycle through these steps on an ongoing basis. But now you have your repeatable, industrialized process setup, your assets onboarded, and everyone knows what to expect — making each iteration faster, easier, and smoother. Coordinate this process with your deployment rings, and you are all set.
Conclusion
Above I have mentioned a few important takeaways from the webinar, but by no means all of them. We hope this gives you a good starting point and sets you on a firm path to success. Last, but not least, we shared a few tips:
Successful Windows 10 migration and WaaS Management takes an organization that is culturally ready for it.
Define your 'perfect' deployment strategy as a theoretical exercise to understand what is involved.
Consider setting up a function to manage the as-a-service model (e.g., Windows 10, Office 365, SCCM and others).
Document your end-to-end process and workflow for managing the upgrades. What should happen and when? How are you going to communicate with your end users, manage app testing, manage scheduling and the like?
Decide whether your existing tooling is sufficient to manage this process repeatedly.
Of course we would love for you to look into Juriba Dashworks for the project command and control, and into the Flexera product suite. Both tools would help you better plan, manage and execute the deployments in a much more automated fashion than you might be used to.