Microsoft Inspire is now over and with so many announcements we think it is a good time to collect the big news all in one blog post. Many great discussions took place in Washington D.C. in July and with almost 18,000 attendees it was the biggest Microsoft partner event ever! As Microsoft CEO Satya Nadella said in his Vision Keynote address on Day 1, "Attendees at Microsoft Inspire come from 140 different countries, and the joint efforts of all these partners create 17 million jobs worldwide". With so many different technologies and new announcements, let us summarize what we learnt from the show...
With so many partners interested in better managing IT migration activities and a hot topic with WIndows 10 servicing, our booth was a roaring success with Juriba figet spinners literally flying off the stand! We met lots of our current partners as well as new potentials at our Evergreen IT themed booth where we demonstrated how Dashworks has helped migrate over 5 million assets across major IT transformation projects like Windows 10, Office 365 and desktop virtualization. We also showcased our new user interface, as well as talking to partners about our product roadmap. If you missed it, you can find some pictures below or request a personalized demo.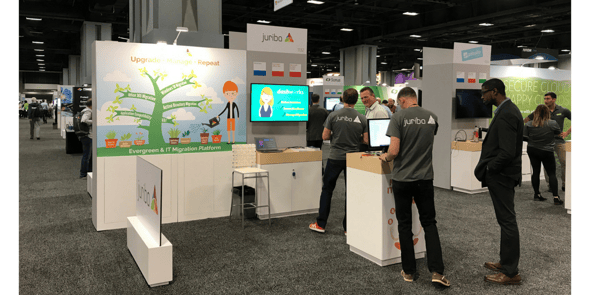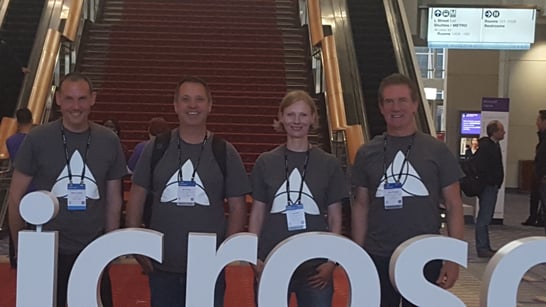 Now on to the biggest announcements, here is a list of the ones we think you shouldn't miss, especially regarding GDPR and future technologies.
As a partner first business, Microsoft was heavily pushing its focus on partners' success and growth. The

One Commercial Partner scheme is a reorganisation in how Microsoft works with partners. Rather than account focussed silos, the plan is to bring

partner-focused teams from across Microsoft into one organization and

work with partners in these three primary functions: Build-with, Go-To-Market and Sell-with. A new role has been created called 'Channel Managers'.

Satya Nadella unveiled

Microsoft 365, a product naming umbrella that brings together Office 365, Windows 10 and Enterprise Mobility + Security, delivering a complete, intelligent and secure solution to empower employees, as well as Microsoft 365 Enterprise

and

Microsoft 365 Business

. Microsoft 365 Enterprise is offered in two plans—Microsoft 365 E3 and Microsoft 365 E5. Both are available for purchase from August 1, 2017. Microsoft 365 Business is designed for small to medium-sized businesses with up to 300 users and is available in public preview from August 2, 2017. It will become generally available on a worldwide basis in the fall (CYQ3) of 2017, priced at US $20 per user, per month.

Microsoft's CEO also announced the

preview of three tailored applications: Microsoft Connections, Microsoft Listings and Microsoft Invoicing as well as informing partners that Microsoft's mileage tracking app,

MileIQ

, is now included with Office 365 Business Premium.

Microsoft also announced some useful resources

to help customers address the new General Data Protection Regulation (GDPR) as May 25th, 2018 apporaches. By leveraging Microsoft's technology and collaboration tools, partners can now streamline their GDPR compliance and help their customers do the same.

This creates opportunities for partners to position their businesses as leaders in the privacy and data management space, while elevating their global impact.

The American software giant introduced its Security Practice Development Playbook as well, a 228-page document in which it predicts that managed security services market is expected to reach nearly $41 billion on a global note in just next five years. The playbook will help all Microsoft partners to have a strong security strategy to Office 365, Windows, EMS and Azure.
Finally, Microsoft confirmed that the company plans to help partners meet customer expectations by becoming more solution-centric, with particular focus on four solution areas: Modern Workplace, Business Applications, Applications and Infrastructure, and Data and Artificial Intelligence (AI).
Of course, it wasn't just about Microsoft announcements. We spent a lot of time talking to our partners about how Juriba can help with their efforts to migrate customers to Windows 10 and Office 365, whilst also discussing the ongoing management of the OS, hardware and applications in an Evergreen estate. Interestingly, many partners are now only just considering the impact that Windows 10 is going to have on their managed services, and despite the recent announcements to demystify the complex terminology and process around the Windows 10 servicing model, there is still a lot of confusion about what it all means in the real world. Look out for some thought leadership webinars coming soon with some of our key technology partners.
For those of you who were not at Inspire or couldn't attend all the sessions they wanted to, you can watch the Vision Keynotes, sessions and daily highlights on Microsoft's website. After such a great experience we couldn't help but immediately register for Inspire 2018, taking place in Las Vegas, Nevada from the 15th to the 19th of July next year, we hope to see you there.