To many, Microsoft's Windows Virtual Desktop (WVD) is still a mystery. Although it has been around since 2019 and demand for it increased drastically over the last year when employees suddenly found themselves working from home full time, many organizations still don't fully understand it or don't have it on their radar as something they possibly need to implement.
And if you do research it, it is all too easy to get lost in the technical detail. If you are working in the Modern Workplace, Business-as-Usual, or on an IT Transformation team and you find yourself thinking that WVD is something your boss should explore further, then this post is for you. We define what Windows Virtual Desktop is (in less than 100 words using non-technical language) and map out three things any Head of Workplace needs to know now.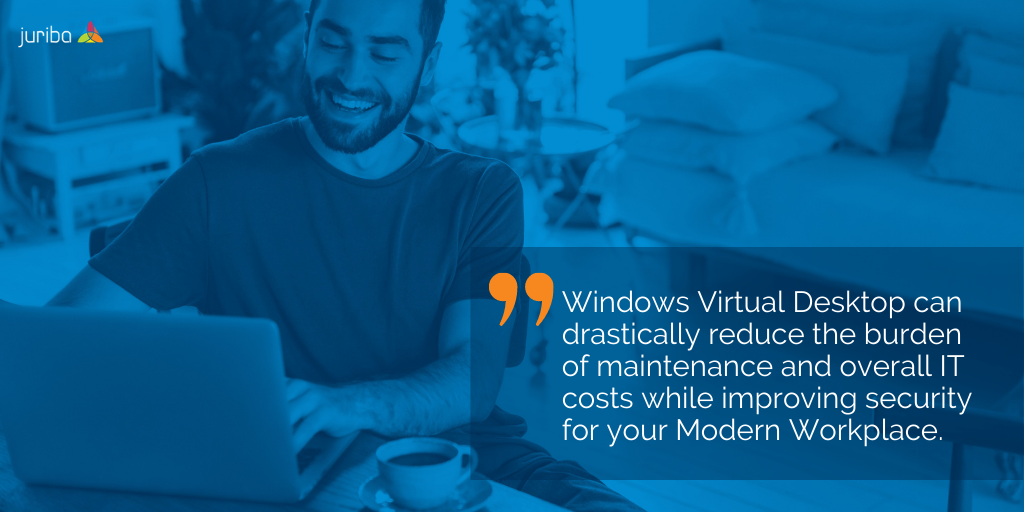 What is Windows Virtual Desktop?
So let's start by looking at what Windows Virtual Desktop exactly is. Here is a quick definition: Microsoft's Windows Virtual Desktop (WVD) is a desktop and app virtualization service that works on all devices, operating systems, and browsers (Windows, macOS, iOS, Android, HTML5). It allows:
Users to access their apps, files, data, and personalized settings securely from anywhere, while maintaining the familiarity, speed, and feeling of it being installed locally.

Users to test the latest in world-class security and the latest feature updates as they come out without having to disrupt their work environment.

Organizations to scale up or down quickly, minimize infrastructure, reduce the burden on their IT staff, and only use the storage and computing power needed to save costs.
I realize that this definition is rather broad. So, I want to break it down into the three biggest advantages you can look forward to when embracing this new technology, and a quick overview of the licensing. There are many others from a technical perspective but, ultimately, these are the ones your boss is going to care about.
Windows Virtual Desktop Licensing
Before you get started with Windows Virtual Desktop, you will need to make sure you have the proper licensing and hosting. Organizations that are currently running on Windows 7 or Windows 10, and having one of the following licenses are eligible for Windows Virtual Desktop:
Microsoft 365 E3, E5, A3, A5, F3, Business Premium and

Windows E3, E5, A3, or A5.
Since WVD is a cloud service, besides having the appropriate license, an organization will also need to have an Azure AD with an Azure subscription linked. For more detailed information, please see Microsoft's requirements page and pricing page.
1) WVD Can Reduce The Burden (And Cost) Of Maintaining & Upgrading IT (e.g., Windows Servicing)
The struggle that an enterprise IT department faces daily is overwhelming and can result in a disruption in Business-as-Usual if IT doesn't keep up with the pace of change. What's even worse is that, since IT is always playing catch-up, there is no time for innovation.
In organizations that are still on Windows 7 and relying on Microsoft's paid extended support (which expires Jan. 2023), the IT department receives only critical and important updates determined by Microsoft. Any performance issues that an enterprise deems critical or necessary will not be fixed by Microsoft, resulting in a direct negative effect on end-user experience (UEX).
In organizations that have already migrated to Windows 10, IT departments find themselves unable to keep up with the pace of upgrades coming from Microsoft, with the constant need to test and package applications to ensure compatibility. This leaves many IT departments scrambling to finish ensuring compatibility before the version their users are on goes end-of-life and leaves them running a vulnerable version of Windows.
Once an organization is on Windows Virtual Desktop, updates will not be such a stressful ordeal. Because all your apps need to be virtualized or run in a container in order to get onto Windows Virtual Desktop, updates to WVD will become a more routine and easier experience. For organizations that are still not ready to take the Windows 10 plunge, Windows 7 can still be run on WVD without paying for the extended support of on-premise.
2) WVD Improves Security For The Modern Workforce
According to a study by IBM, in 2020, the global average cost to a company for a data breach was almost $4 million, and in the United States, it was over $8 million. It also took an average of 280 days to identify and contain the breach. With Windows Virtual Desktop, security is at the forefront of the technology.
Since in WVD, the apps, data, and files are hosted on Azure, the risk of leaving confidential business information on a personal device is significantly reduced or eliminated. Using group policy settings, you can limit what data can live on the consuming device, i.e., preventing video capture redirection, etc.
Across all devices that are used, a secure, consistent sign-on experience allows only the right (authorized) users to access their apps and data. There are also additional security features, such as multi-factor authentication and conditional access controls based on location, user, device, apps being used, etc.
3) WVD Reduces Overall IT Costs
An enterprise can realize significant savings when moving over most of its users to Windows Virtual Desktop. Since the storage is being handled virtually in the cloud, companies can drastically reduce the number of servers and related infrastructure, and the associated costs to monitor, maintain, and upgrade them.
Employee devices are another category in which savings can be realized because the processing power is being controlled in the cloud. End-user devices do not need to be high-end machines, and even a user's personal device would be sufficient.
Licensing costs can also be reduced by taking advantage of Windows Multi-Session hosting, and having the ability to scale up and down as needed. Multi-Session hosting, which previously only Windows Servers could do, allows multiple concurrent interactive sessions of Windows 10. This allows users to have the familiarity of Windows 10 while IT can manage the cost using existing per-user Windows licensing and shared resources, i.e., vCPU, vGPU, memory, disk, etc.
Conclusion
For many organizations, implementing Windows Virtual Desktop can significantly reduce the costs and the burden on their IT staff, while improving security and user experience. Although getting approval to make the transition to Windows Virtual Desktop can be difficult, the benefits of WVD are well worth the investment.
Of course, how we get an organization onto this platform is another matter and we will be looking at the pitfalls to avoid in a later post.