2018 has been be a big year for enterprise IT teams — but for those who still haven't made the move to Windows 10 and adopted a repeatable and scalable Windows-as-a-Service Management framework, 2019 will be even bigger. Most large organizations have completed or already are in the midst the long and challenging journey to migrate tens of thousands of assets onto Windows 10 — having waited more than three and a half years years after the initial launch date for the new OS to work out its kinks.
But with Windows 7 extended support ends in less than a year, enterprises have to kick their efforts into high gear which means the race to start (and finish) these complex IT transformation projects as effectively and efficiently as possible is on.
However, it is a common misconception that complex projects like these start off with day 1. Well, they do not. They cannot start without necessary groundwork, such as creating a business case, assembling the initial team or getting seed funding — just to name a few to-dos. We call this "Planning for the Plan." It might sound a bit like organizational overkill, but after having readied more than six million assets for successful migration, we know that putting all the levers in the right places before starting your project will ultimately help you accelerate your Windows 10 migration by over 65%!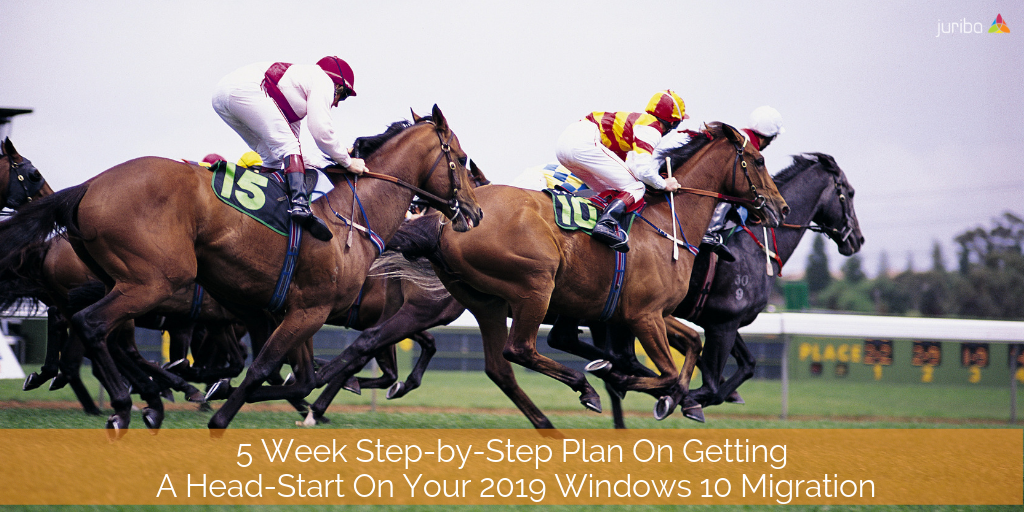 So why not start 2019 by hitting the ground running so you can officially start your migration project? Below, I want to map a week-by-week plan for how for the next five weeks that will enable you to score some big wins early in your Windows 10 migration.
So, let's dive right in:
Days 1-2: Plan For Your Windows 10 Project Kick-Off
Just as much as a symphony orchestra ensemble relies on its conductor to set the correct tempo and volume, as well as to ensure that the various group members enter at the right moment in time, a complex IT transformation project requires a project plan with a beginning and an expected end date that determines the guard rails and project controls as the foundation for this massive undertaking.
Without such a plan, you risk getting off-schedule within the first few weeks after kick-off, and you are likely to suffer constant scope creep, resulting in a never-ending migration project that is way over budget.
Additionally, you will need to analyze the primary business benefits, identify your sponsor(s) and major stakeholders, as well as pitch the project to the relevant people. This step cannot be rushed as sufficient and detailed planning is critical. This will be the foundation on which your entire project stands. Skip this step, and you will have to go back later and rebuild.
Days 3-5: Building Your Business Case/Proposal
To kick your project off, you will need executive buy-in, approval, and sign-off — especially here where you will need a lot of incremental spending over the months, or even years ahead. To convince your CIO of the business need and financial benefits of your planned migration, you will need a sound business case and project proposal.
First, start by identifying your business needs and the anticipated business benefits (e.g., increased productivity, faster uptime, better security) of the planned Windows 10 migration project. This way you ensure that your IT goals align with your overarching business goals.
Week 2: Translate Technical Requirements Into End-User Benefits & Review Big Dependencies
Since you will need to receive buy-in from different team members and stakeholders across multiple teams, identify your key stakeholders. For example, this can be your executive management team or your business sponsors.
That is the easier part. The hard, but vital, part is to write the actual business plan document. A lot of IT project managers struggle here because writing a business plan is not something they are comfortable with in the first place, but it is even harder since you will not have much accurate data at this point in the game to base your assumptions on, but getting a scope down on paper will help you later on.
On a technical front, now is the right time to start planning for any infrastructure change that will be required. For example, you will need to review your current desktop management infrastructure solution (e.g. SCCM) and ascertain whether it is ready to support your Windows 10 rollout. In many cases, you will need to upgrade this infrastructure before you can even start to think about deploying or upgrading devices.
Week 3: Create Your Windows 10 Budget Plan
You will have to rely on your experience with past migrations as well as any reliable information found online. Since we have helped hundreds of large enterprises with their IT transformation projects, we compiled our experience into our Windows 10 Migration Budget Calculator and our How to Budget for Your Windows 10 Migration Whitepaper.
In general, we have found that the average cost of migrating a device from Windows 7 to Windows 10 without an IT Transformation Tool is $693. But with the use of a specialized data-warehousing tool, such as Dashworks, the cost is about $200 less.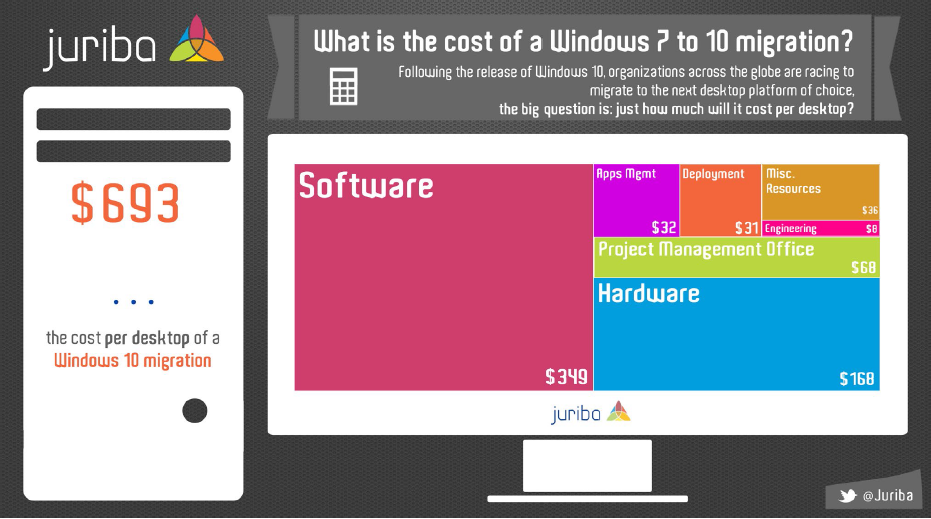 Your business case will need to map out your rough project timeline, key milestones, and objectives as well as your acceptance criteria and project requirements. Also, you will need to outline the project related deliverables, constraints, assumptions, and dependencies, as well as any risks and costs involved to create an overall plan that includes a budget, vendors, and your infrastructure and resources.
For a detailed list of what you need to include and how much time you should allot to these tasks, please refer to our Windows 10 Project Plan Template.
Week 4: Prepare Project Management Documentation
After you have successfully completed your business case and obtained your initial project approval, you can begin project setup by creating your control documentation as well as planning for the amount of money and resources you will need.
To get started, you first need to understand what you are dealing with — in other words, you need to determine the starting point and the end point of your project. Since your Windows 10 migration will touch almost every single device in your organization, you will need to get an idea of your entire current IT landscape (big picture) and your ideal target state.
Therefore, your number one priority needs to be to determine the project scope and scheduling management plans, the desired outcome and the preferred method to be used. Now is the point when you will start to need your seed capital to kick in as you begin aligning resources and start initial technical investigations.
To wrap up, you will need to have in place the following:
A basic cost management plan

RAIDs (Risk, Assumptions, Issues, Dependencies) management plan

Operational management plan

High-level project plan

Project team plan

Approval for the above project documentation
With this all complete and signed off, you can start mobilizing your project!
Week 5: Project Mobilization
Almost there! Because of all your hard work in the last few weeks, you are now ready to move into project mobilization mode. This is the step where you obtain seed funding and build the project mobilization team that will create the initial program and project management. At the end of this step, you should have all of your project setup items in place, ready to start the real work of discovery and assessment as soon as the new year starts, as well as preparing your infrastructure for the upgrade.
You are now ready to go! I hope you find this information useful. For a more detailed plan, download our fully customizable Windows 10 project plan template today.