NEW COLLABORATIVE PARTNERSHIP OFFERS LIFELINE TO LARGE ENTERPRISES STRUGGLING TO DELIVER WINDOWS 7 MIGRATION PROJECTS BEFORE DEADLINE
ECS and Juriba partner to provide application packaging process for Windows 7 migration process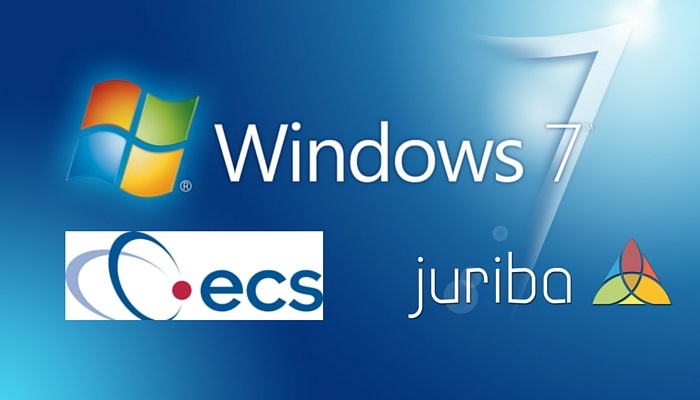 ICT consultancy, ECS, has partnered with software migration expert, Juriba, to offer a complete software migration and implementation programme management service for large enterprises facing the imminent challenge of migrating from Windows XP to Windows 7. The need for large scale enterprise migration is accelerating at a rapid pace with the 'end of life' of Windows XP fast approaching in April 2014 – less than 1,000 days. Research organisation Gartner estimates that there are still 300 million enterprise desktops that need to be transitioned from Windows XP to Windows 7 before Microsoft drops its support.
Dashworks, Juriba's desktop transformation software product, is able to integrate smoothly with the ECS application packaging service, delivering a migration process that can be executed with minimum disruption to end users – a key factor for large enterprises who are likely to be embarking on two to three year projects for the migration of 50,000+ desktops, which will often involve multiple locations across multiple countries.
ECS is a specialised consultancy of highly trained and experienced professionals who have the skills to provide support during the transition of applications from one desktop platform to another. As experts in application migration, ECS has already migrated thousands of applications to Microsoft AppV, Symantec SWV and VMWare ThinApp formats, helping organisations to achieve their virtualisation goals.
Juriba's Dashworks helps large enterprise-scale organisations accelerate and improve the accuracy of major desktop transformation programmes – such as the current Windows 7 migration requirement. The Dashworks software profiles every individual desktop and laptop, and the applications on them, and then schedules the fastest or most efficient route to migrating all applications to a new operating system.
The alliance between ECS and Juriba provides an additional layer of expert project management support to the migration process as Iain Fraser, Commercial Director, at Juriba explains, "The partnership with ECS allows us to offer our customers a team of professionals who can provide a quality application packaging service. When migrating from one operating system to another, for example from Windows XP to Windows 7, an organisation will undoubtedly have to convert a variety of complex business applications, which will not typically work unaltered in the new operating environment. This situation is further complicated if they are moving to a virtual platform."
Paul Thomson, Managing Director of ECS comments, "During a desktop transformation project, which can often last 12-24 months, the migration of desktop applications is the critical factor for all organisations."
With Gartner predicting the estimated the cost of a migration to be between $1,000 and $1,900 USD per device, Juriba are confident they can offer customers the best value for money service, Fraser continues, "ECS has a proven track record of success in this area and through our collaboration we anticipate being able to provide faster and more efficient enterprise migration programmes which will in turn save £000,000 for our customers."
The partnership between ECS and Juriba is already proving beneficial with both organisations working on several joint opportunities. Commenting on the working partnership, Fraser concludes, "ECS has very talented technology engineers who really understand the workflow required to get an application ready for migration. They are very confident in their processes and we have a very healthy working relationship. We hope to develop this relationship as the demand to migrate to Windows 7 increases."
About Juriba Limited
Headquartered in London, Juriba is a global developer of business intelligence solutions designed to revolutionise the management of enterprise desktop transformation programs of work such as Windows 7 and desktop virtualisation.
Its flagship product, Dashworks enables organisations to accelerate desktop transformation projects through agent-less, user-centric compatibility analysis, and dynamic, multi-phased project delivery management.
Using advanced data warehousing techniques, Dashworks enables project managers to quickly build a data driven view of the organisation's users, computers and applications. Layered business driven feeds provide enhanced analytics and compatibility analysis, accelerating the project planning phase and identifying the quick migration wins. Project delivery is accelerated by building a single version of the truth, utilising a project scheduling module to dynamically manage asset migration readiness and deployment.
Over the last three years, Juriba has implemented Dashworks for over 500,000 end users across the globe, actively managing the desktop transformation of 200,000 to Windows 7 in 2011.
Customers include some of the largest organisations in the world such as JPMorganChase and Fujitsu.
For further information, please contact:
Will Gardiner / David Beesley +44(0)1932 578 800willg@itpr.co.uk