Bill Schmarzo, the CTO of Dell EMC Services, a.k.a. the "Dean of Big Data" and the author of several books on the same subject, recently published an interesting article entitled Driving Digital Business Transformation. In his article, he mentioned how he starts every client relationship by asking about the organization's effectiveness of leveraging data and analytics to power the business." He does this because his client's answers often reveal crucial information about the organization's ability to achieve digital business transformation.
As tidal-shift megatrends, such as social networks, mobile, cloud, and big data transform every aspect of our lives, organizations must adapt their key business processes to deliver the exceptional customer experiences their consumers have come to expect. Only those companies that adapt fast enough and stay sufficiently agile will leap ahead of their competition. The rest will wither away. That is what Digital Business Transformation is all about.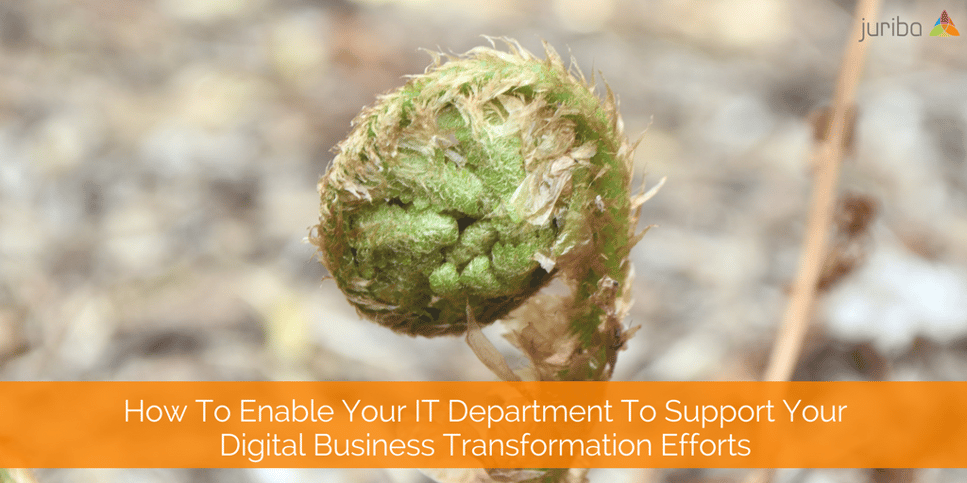 Who Owns Digital Business Transformation Within The Enterprise?
Digital Business Transformation can be approached in various ways. The first question is always: who in the organization should be heading up these efforts? IT? C-Level Management? Business? Marketing? According to the 2016 State of Digital Transformation Report. There is no consistency between which senior management position is accountable for this business-changing initiative. For example, 34% of companies charge their CMO (Chief Marketing Officer) with heading up their Digital Business Transformation efforts, while in 19% of the cases the CIO (Chief Information Officer) own it.
However, now that many enterprises have undertaken this enormous organizational challenge, we can start to deduce from the successes and the failures some common threads. Enough large organizations have gotten their feet wet with attempting Digital Business Transformation that we can see a pattern emerging: the greatest progress occurs in mature companies that successfully enable cross-functional collaboration between lines-of-business and IT.

Why IT-Led Digital Transformations Mostly Fail
Traditionally, selecting, purchasing, and implementing technology has been firmly in the hands of IT. The IT department has a designated budget to purchase the required (or desired) applications, infrastructure, and cloud solutions. They are usually the ones that determine the company's long-term technology strategy, and they also have the technical expertise to implement, maintain, and service these solutions. So it seems natural to entrust IT with the responsibility to drive this game-changing digital transformation initiative as well.
Unfortunately, most IT departments view Digital Business Transformation initiatives as a way to reduce cost, modernize their application estate or replace/modernize their infrastructure. That is what they are best at and what they have been doing for decades. However, technology alone fails to create a "business-driven collaborative value creation process for leveraging the data and analytics", as Bill puts it — causing the company to fall into the so-called "Digital Business Transformation Chasm."
Successful Transformation Are Business-Led And IT Enabled
If you look at outstanding examples of businesses that have successfully delivered digital transformation, such as Amazon, Under Armor, Disney and much more, one commonality stands out: they started with the most pressing customer need and then crafted a digital solution for it. The entire process was entirely customer-driven!
In other words, to successfully transform your business to excel in this digital world, you must intrinsically understand which business initiatives and customer experiences you should invest in to ensure that you create the most engaging and compelling customer experiences to sustain continued transformation. Therefore, successful Business Transformation is driven through the business units.
Gaining Control Of Ever-Increasing IT Debt Is A Must
However, business cannot do this alone! IT must enable the business units and provide the ability for all members of the Digital Business Transformation project to access relevant data and analytics, digitize these key processes, and provide access to all relevant information and reporting.
Theoretically, that sounds logical. However, most enterprise IT teams have more pressing problems to deal with at the moment.
Faced with a staffing stalemate and flat budgets, IT teams struggle to make a dent in their ever compounding IT debt. Moreover, there are other IT initiatives, such as moving to the cloud, data center transformations, email migration, and Windows 10 rollout to consider. For example, 86% of businesses will move to Windows 10 within the next 3-4 years, 47% of them plan to start in 2018! That means, IT will have their hands full.
So, the question becomes: If IT is already at capacity, how will they be able to take on the additional responsibility of supporting their business counterparts on their Digital Business Transformation journey? The answer is simple, yet implies a shift in thinking: IT must become more efficient in dealing with everyday IT projects to be able to support such an important initiative! IT management must be automated and managed in Business-As-Usual mode as much as possible to decrease the weight IT is carrying to free up capacity and resources to undertake this new way of doing business.
Evergreen IT: The Basis For Business Transformation?
Over the last few months, we have covered much ground on the importance of Evergreen IT in your long-term strategy — particularly for that reason. By implementing the right change management, processes, and technology, you enable your IT team to manage your IT estate as an ongoing process, rather than one big-bang project chasing the next! This way, you become more efficient, more cost-effective, and agiler to handle Digital Business Transformation Management.
Another benefit of achieving Evergreen IT is, that by implementing an IT Transformation management platform, like Juriba's Dashworks solution, you enable your organization to find common ground based on data, as it provides a single pane of glass. Your business liaisons, executive management, and other key stakeholders will appreciate the ability to access and self-service their data and analytics needs — allowing them to access the data they need when they need it without being dependent on you. Solutions like this can help drive digital transformation by freeing up resource to work on strategic initiatives rather than getting swamped in business as usual firefighting.
Now let me ask you: "How effective is your organization at leveraging data and analytics to power the business?"
Sources: Connected Enterprise Report