According to Gartner, 85% of enterprises are planning to get their Windows 10 migration under way before the year is out — making the newest version of Microsoft's operating system the fastest adopted release yet. While most of this velocity is driven by increasing security concerns, Jason Leznek, Director of Windows Commercial Product Marketing, believes it is more than that:
"We designed Windows 10 to be the most secure Windows ever, ease management efforts and create more personal and productive computing experiences across devices. Customer satisfaction is at an all-time high because of the security and productivity features, which are behind the strong adoption and overall satisfaction."
And to fuel the enthusiasm about Windows 10, Microsoft commissioned Forrester Consulting to conduct a cost-benefit analysis on the subject which we want to take a closer look at today.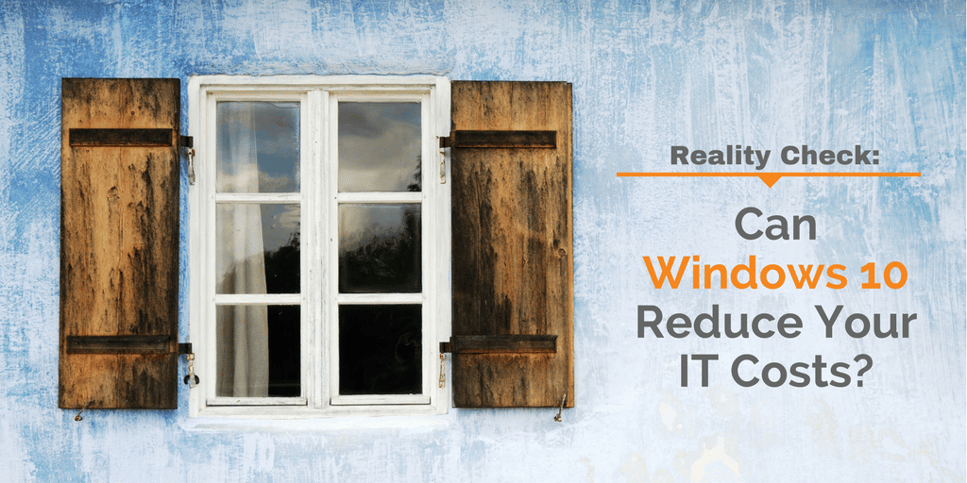 The Total Economic Impact Of Windows 10
In the Total Economic Impact™ (TEI) of Windows 10 study, the analyst group interviewed four hand-selected enterprise customers and early adopters who had just rolled out Windows 10 successfully: a government health department, a multinational food and beverage conglomerate, a global IT services firm, and a professional car racing team.
The results were combined into a fictitious organization with 20,000 employees and 24,000 client devices mostly running Windows 7 to demonstrate the costs and benefits of the new OS. The composite organization's implementation was kicked off in 2016 with about 7,500 devices rolled out in the first year. The migration project is expected to be completed by the end of the 2017 — sometimes reaching up to 1,000 migrated devices per week.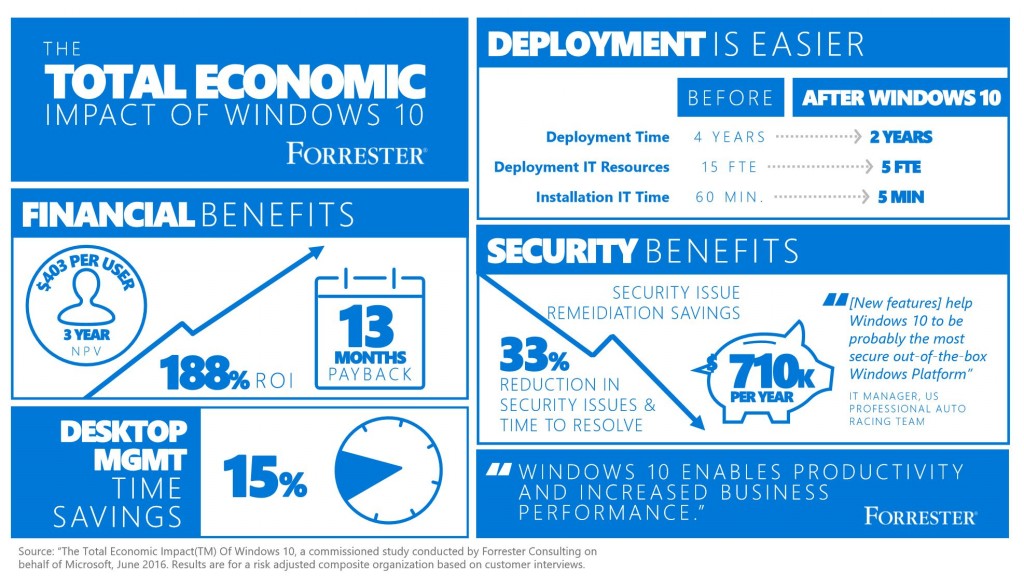 (Image Credit: Forrester TEI of Windows 10, 2016)
The study found that this composite organization was able to reduce its desktop management resource time by 20% compared to previous Windows versions due to its familiar interface that requires little or no end user training or extra support. By the second and third year, these savings equated to multiple FTEs by the time all devices were migrated. In addition, the team would be able to rationalize third-party application licenses (e.g., encryption and antivirus utilities) worth about $30/client device as Windows 10 replaces those apps. All in all, the composite organization expects risk-adjusted total benefits to be a Present Value of more than $14.7 million over three years.
Not only that, but one customer mentioned in an interview that his team needed 50% less time for the migration project itself, compared to their previous transformation to Windows 7.
Reality Check: Can You Expect The Same Results By Migrating To Windows 10?
There is no doubt that adopting Windows 10 sooner rather than later will have a positive impact on your bottom line, increase your employee's productivity, and increase your security. But the question is: how realistic is it to expect the same ROI results as these few hand-picked Microsoft customers? Or are you heading for disaster by drinking the Microsoft marketing Kool-Aid?
I had the privilege to be part of many enterprise OS migration projects: Our software has helped large organizations ready more than five million assets for successful migration so far — many of them being devices that were upgraded to a new version of Windows. I saw enterprise IT project managers struggle to roll out Windows 7 in a timely manner, and our software is central to several Windows 10 roll-outs since adoption began in earnest last year.
So today, I would like to assess three major claims from this report, share with you my takeaways, and compare it to my real-world experiences as a bit of a reality check, namely:
Convenient Self-Service Application Store Reduces Admin Time From Hours To Minutes
Windows-as-a-Service Reduces OS-Related Application Testing And Management Resources
Automated & Unattended Deployment Tasks Decrease Required Installation Time and Admin Resources
So, let's go into each claim in more detail:
Convenient Self-Service Application Store Reduces Admin Time From Hours To Minutes
One big point that is referenced multiple times in the report is the new ease-of-use and convenience of the application store in which employees can find, install, and — reduce some third party software costs. The report stresses the benefits of the self-service features of Windows 10 and its improved integration with System Center Configuration Manager, Microsoft Intune, the Windows App Store, and the new Windows Store for Business.

(Image Credit: Microsoft)
According to the report, employees can self-service their migration to Windows 10 (the way Microsoft rolled out the new OS internally to more than 90,000 employees) or use the self-service feature after the migration to conveniently find and install approved business applications.
Because of Windows 10's tight integration with Azure Active Directory, IT admins can set up security roles, ensuring the end users download the right versions of the right applications based on their role, team, and department. This process used to take hours but now can be completed within minutes.
As a result, Forrester estimated a three-year risk-adjusted present value of more than $1.5 million for this made-up company. In theory, this sounds amazing. However, many enterprises are not using the Windows Store for Business since they already have an enterprise application store like ServiceNow, 1E or Flexera, or have a similar request system in place. Therefore, this saving may not be applicable to your organization. However, if you don't have your own app store, the Microsoft option is a simple way to get one.
But there is associated work to set it up, configure permissions and add approval workflows to ensure that all software consumed from the store is correctly licensed. Additionally, application compatibility, packaging and testing issues are still huge roadblocks when it comes to enterprise IT Transformation projects, as the average Windows 10 migration touches more than 1,500 applications. It's not just about how users can download the applications, it's just as much about how those applications got to the store in the first place. This is where the work lies.
For me, this raises some critical questions, such as:
How will you discover, normalize, and rationalize your applications in the first place?
How will you ensure that all of your applications are properly packaged and tested for Windows 10 compatibility?
How will you manage the availability of those applications to the right users, and map approval workflows
In Windows 10 transformation, how do you ensure that only those users ready to receive the upgrade can service it
Basically, in order for your employees to take advantage of the self-service capacity, you have to be using the Windows Store for Business, have a tight handle on your entire application estate, licensing management, application lifecycle management and much more.
Windows-as-a-Services Reduces OS-Related Application Testing And Management Resources
In addition to the above-mentioned savings from the application self-service features, Microsoft highlights additional savings because its latest OS is a Windows-as-a-Service: According to the report, application testing can be reduced by 75% as your IT department rolls out branch updates and will need only one FTE to manage the subsequent upgrades. Let's look at both of these in more detail.
The argument is that once you have rolled out the major initial Windows 10 upgrade that will affect almost all of your applications, you will roll out smaller, more incremental upgrades twice a year. Since these subsequent mini-migrations will deliver focused feature updates that will only interact with some of your applications, you don't need significant testing on the entire application estate for every update.
Again, theoretically, that sounds great, but how do you know which applications to test? How will you manage the roll-out without being sure that you are all in the clear?
Later, in the report, Forrester returns to the subject of Windows Branching when examining the resources needed to manage upcoming Windows 10 Branching updates. The assumption for this organization is that:
They roll out a new upgrade every six months,
They spend 1 month of planning and testing (including application testing)
And need 1 extra week for implementation
The work will be completed by 1 FTE (i.e., two people working half-time, etc.) who requires 3 hours per week in new tasks.
In our experience, this process can look quite different. If the branch management process is set up efficiently using an IT Transformation management tool like Dashworks that will help you automate and accelerate the workload significantly, you will still require project management resources, application packaging, and testing resources, and potentially, increased support resource when the rubber hits the road.
The overriding question is how as an organization we can identify the things that we need to test. Yes, a feature update may only impact certain areas of the OS, but without the right tooling in place to identify the changes against the applications in use to highlight potential areas of conflict then the workload still exists. The theory takes me back to the days when we used to manage a golden dll list - and we all know how successful that was! Some may even argue that the workload just increased rather than decreased because now you are testing more regularly, have to maintain more simultaneous build versions, and face increased disruption of the end users.
While we are convinced that Microsoft are doing the right thing by adopting an as-a-service model, we also think that most enterprises have a way to go before their tooling and processes are slick enough to manage a full scale rollout on a perpetual 6 month cycle. What we are asking is whether the cost of perpetual change is less than the cost of big bang change - only time and changes in tooling and process will tell.
Automated & Unattended Deployment Tasks Decrease Required Installation Time and Admin Resources
If you have read any Microsoft marketing material on Windows 10 migrations, you will have noted the emphasis on how much easier, faster, and smoother this roll-out process is compared to previous versions.
In the report, Forrester estimates that this composite business can complete its upgrade in two years, instead of four as they did in the past. However, there are several ways to migrate: using in-place upgrades, hardware refreshes, and wipe & loads.
According to our own research and other studies, as few as 30% of the enterprises will run a hardware refresh in parallel to the OS upgrade, and in large enterprises, this number tends to push higher. Since Microsoft's volume licensing program including Software Assurance standardized on Windows 10 Enterprise edition, IT can simply switch on the Enterprise edition without having to reimage the new device — making OS upgrades via hardware refreshes a snap.
The report also cites one Microsoft customer who migrated more than "25% of all employees once we started overnight, unattended upgrades."
Microsoft claims that the:
IT effort required for OS deployment has reduced from nearly an hour to just 5 minutes, on average, per client device, due to increased self-service installation, unattended installation, and integration with System Center Configuration Manager, enabling the IT team to automate deployment by "waking" client devices overnight and initiating installation."
Since most of the migration can be accomplished by self-service, a better integration with SCCM, and the Enterprise Edition enablement by the OEM, the report estimates that the "organization" requires fewer than 10 FTEs to handle the installation of Windows 10 on 24,000 devices.
Of course, these statistics make three huge assumptions
That every piece of hardware is capable of running the new operating system,

That in-place upgrades work for every device and

That the OS can be delivered over the wire.
Many organizations are not like this, and a complex mix of hardware asset lifecycle, network bandwidth, laptop/desktop/virtual machine and other dependencies like applications that run across departments that stop user by user migrations in their tracks. So yes, there may be an argument for a lower rollout cost, but again, without the supporting tools and processes in place, relying on users to manage their own rollout could be very challenging and costly! The technical delivery of upgrades has been improving significantly over time and we have been able to achieve zero-touch migration for many years.
Conclusion
There is no doubt that Windows 10 is the most secure operating system in Microsoft's history and you will need to upgrade sooner rather than later — irrespective of the expected ROI! However, that doesn't mean that you should automatically expect to reduce your IT management costs by simply rolling it out.
There are definite savings in store for large and small organizations alike, but every organization can expect a different ROI. An operating system in itself rarely delivers the tangible benefits of hard dollar savings. Those are only achieved by reducing your headcount as a result of the supporting tools and processes you implement to increase staff productivity. In other words: You are much more likely to see significant impact on your bottom line by implementing the right migration and Branch management approach — including the corresponding people and process changes, to truly realize cost saving efficiency.
Lastly, enterprises should be careful not to fall into the trap of underestimating the application dependency problem. There is always a cost to change, and in the case of Windows 10, the majority of the cost will be in testing and managing your applications in a faster cadence of change than you are used to, or maybe even ready for.