If you look at how IT traditionally spent its investment dollars, there would be a distinct requirement for a positive return on investment by the end of the first three years. Many were long-term IT investments that would determine how you would operate in the next ten to twelve years, and resulted in the definition of many established IT management practices.
But those ancient IT processes and policies used to manage legacy apps are inadequate to handle modern technology updates. Today, most enterprises are much more agile, having moved applications into the cloud, or utilizing the power of Software-as-a-Service. However, most are still maintaining a layer of dinosaur legacy applications and other mission-critical on-premise software in massive data centers. Since most IT organizations are unable or unwilling to change how they manage IT, they still use IT processes and policies that date back more than twenty years!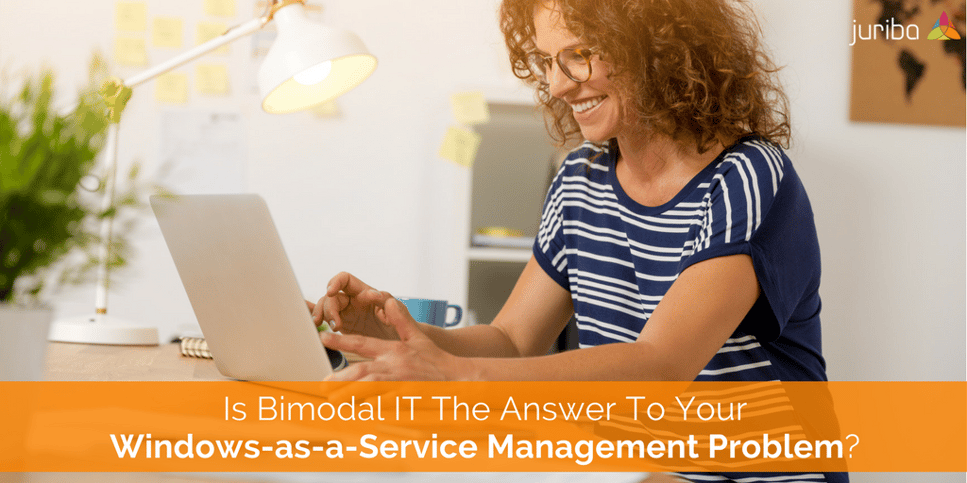 But how can IT organizations, who have operated using these practices for many years but are now faced with a new velocity of change and more tech-savvy users demanding a more agile and flexible work environment, find a middle ground that works for both innovation and legacy? That is where the concept of bimodal IT comes in.
Bimodal IT, a recent term first coined by Gartner in 2014, refers to managing IT in two separate but coherent styles of work:
The first (mode 1) is focused on the predictability and what is known. It includes the maintaining, managing, and modernization of legacy business applications ("Keeping the Lights On") to be up to par with the new digital working environment.
The second (mode 2) on the other hand prioritizes exploration and experimenting. Here is where innovation and Digital Transformation happens.
Both modes are like two sides of a coin — you cannot have one without the other. By fusing a steady evolution with transformational innovation, you create substantial business value and drive significant organizational change.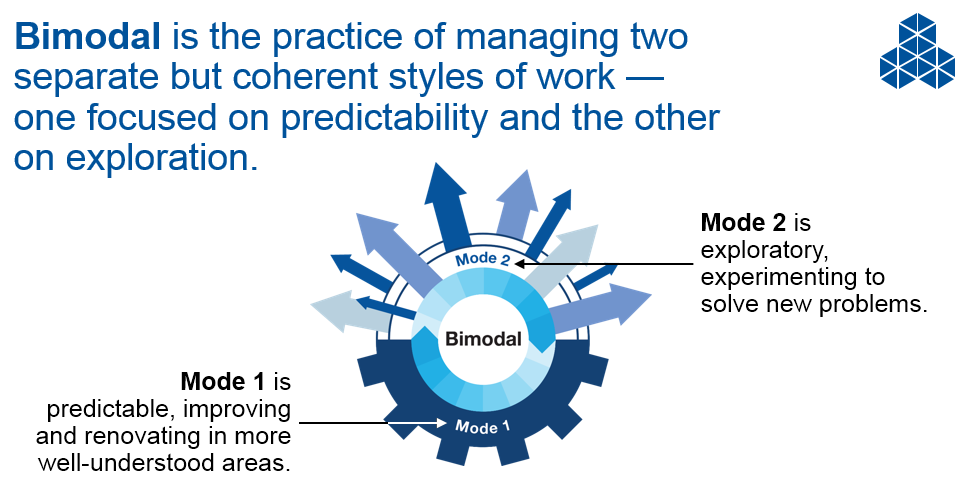 (Image Credit: Gartner, 2017)
While the concept of bimodal IT is not rocket science, it gives IT leaders a better understanding and manageable framework for the organizational shift that has to happen as the new as-a-service model takes root. Rather than having to do a full "rip & replace," the two management concepts can harmoniously live side-by-side.
To achieve that, IT leaders should consider:
Make Windows-as-a-Service Your Innovation Driver
Whether you like it or not, the Windows 10 servicing model is headed your way, and it is wildly different from how IT has managed upgrade projects in the past. Rather than operating highly controlled projects, your organization is heading onto the treadmill of perpetual change. By viewing this new model as an opportunity to challenge and change existing practices and tooling, IT leaders can search for success by blazing the trail for agility, repeatability and process industrialization that can eventually be adopted by other areas than just end-user IT.
Start Empowering Your End Users
Whether you actively encourage it or try to prevent it, by all means, your end users will become more independent than they have ever been before. Rather than viewing the employee as someone that has to be controlled, IT leaders will have more success by blazing the trail and not only allowing but encouraging their users' participation — within corporate security policies.
Why not offer self-service so 'ready' users can volunteer for an early Windows 10 update, pick their hardware from a pre-approved device list, or download apps from the Business Store that your team centrally manages?
Move Towards Virtualization And Browser-Based Applications
This enables the organization to equip end users with "thinner" or mobile devices, such as Google Chromebooks or Microsoft Surface devices, that rely on the cloud to produce necessary computing power, features, and applications.
The other option would be wholly virtualized hot desks that employees use interchangeably, but through which they access their personal profiles by logging on. The most significant benefit of this is that everything is centrally managed and controlled, making it easier to install and uninstall apps.
Tightening Security Measures, Especially Around Data
Data breaches are not the exception anymore — they have become the norm, and with the EU's new data protection regulations, all data owners and processors are now liable. With the measures mentioned above in mind, the focus needs to switch from trusting the endpoint to securing a centrally managed point that stores and processes all the data.
This means less focus on managing physical endpoint devices and more on centralizing and protecting the data which is achieved by utilizing cloud enablement, microservices and containers, as well as server-based technologies.
Creating Actionable Bring-Your-Own-Device Policies
As millennials and other co-workers with more flexible schedules or work locations want to use their private devices, you will have to have guardrails in place that govern which device types are permitted, how employees can use them, how data is stored and which applications can be downloaded, as these decisions can have huge implications on your environment in terms of management and corporate security measures.
Without precise and enforceable policies in place, you might face costly consequences.
Viewing IT As A Central Service Hub
For some, this might be the most challenging point to truly wrap their heads around and embrace. However, if you can create a customer-obsessed team that facilitates IT services rather than the organization that desperately holds onto control and power, then even the Shadow IT within the business units will start working with you rather than in parallel!
Conclusion
Change is hard, but inevitable, especially if you have been doing things a certain way for the past decade or so. But not to adapt to this tidal shift — a shift that's now being called the fourth industrial revolution — has dire consequences for the IT leadership, the entire IT organization, and the whole business.
Gartner predicts that "five of the top seven digital giants" will willfully "self-disrupt" to create their next leadership opportunity by 2020. Moreover, if this did not bring home the point, this prediction certainly will: "By 2021, more than 50% of enterprises will be spending more per annum on bots and chatbot creation than traditional mobile app development."
Organizations must now lay the foundations for enabling that change, but it will not come by completely ripping out massive legacy applications and moving all business functionality into the cloud — at least not for enterprises and larger institutions. There must be a balance between predictability and exploration/innovation that Gartner has translated into the bimodal IT concept. However, to adopt it, we must change the way we view our IT landscape and priorities — especially in the end user computing space. Windows-as-a-Service might just be the catalyst we have all been looking for.