Alliance Extends Ability to Deliver Integrated Solutions that Accelerate IT Migrations and Optimize Time and Budget.
LONDON – June 27, 2017 – World Wide Technology (WWT), a market-leading technology solution provider, announced today that it has formed a strategic partnership with Juriba, the company that has redefined Enterprise IT Migrations.
"Forging a strategic alliance with Juriba extends our ability to deliver truly innovative, integrated solutions to help our customers manage their IT Migrations, with Juriba Dashworks, WWT CPMigrator® and supporting tools like Tanium giving us a unique stack of technologies and services" said Bob Olwig, WWT's vice president of business development and innovation.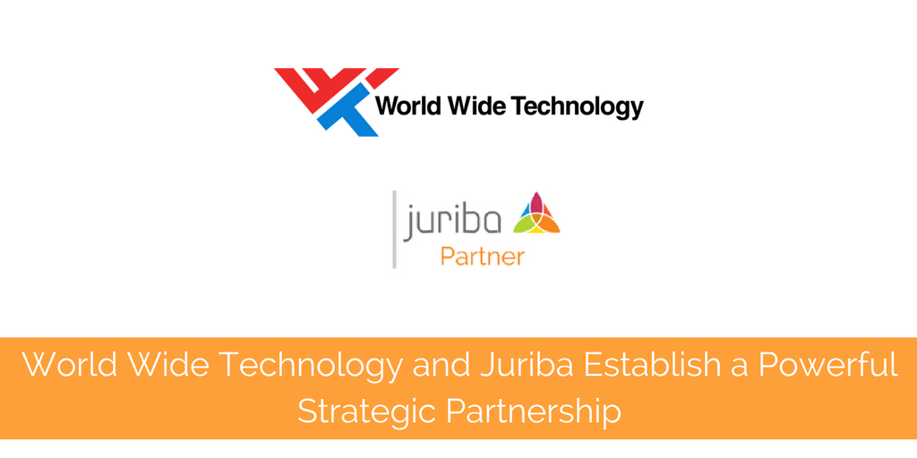 WWT has already successfully collaborated with Juriba to help business enterprises across the globe mitigate risk, optimize IT migration planning, and manage endpoints to their next platform at incredible scale. The companies first teamed up last year to deliver a revolutionary VDI program for a large investment bank. Together, Juriba and WWT ensure fast and accurate planning, readiness and delivery of zero-touch migrations to Microsoft Windows 10, Office 365 and virtual platforms. With CPMigrator, a proven solution that combines Juriba's industry-leading migration readiness tool Dashworks with WWT's advanced automation and migration capabilities, WWT can provide a unique selection of tools and resources to help every organization vastly accelerate their Windows 10 migration. WWT also features the Juriba solution in its Advanced Technology Center (ATC) for testing and running IT proof of concepts. There it has demonstrated an expertise integrating Juriba technology with complementary solutions from market-leading vendors, including Microsoft to help enterprises and agencies analyze, ready and deploy thousands of assets to their next upgrade and beyond.
"WWT and Juriba have been working in close collaboration over the past few months to integrate products, build project frameworks and design project services for Windows 10 migration, Office 365 and other IT transformation projects. This strategic partnership will create more repeatable IT migration solutions and help achieve Evergreen IT for our current and future customers, delivered using WWT's unique framework." said Barry Angell, Juriba's CTO.
The partnership will be strengthened and supported by WWT's ATC, Integration Technology Center (ITC), technical engineering expertise and sophisticated supply chain management infrastructure. Learn more about WWT and its proven strategies and solutions by visiting https://www2.wwt.com/
About World Wide Technology
World Wide Technology (WWT) is a technology solution provider with more than $9 billion in annual revenue that provides innovative technology and supply chain solutions to large public and private organizations around the globe. While most companies talk about delivering business and technology outcomes, WWT does it. Based in St. Louis, WWT employs more than 4,000 people and operates over 2 million square feet of warehousing, distribution and integration space in more than 20 facilities throughout the world. For more information about World Wide Technology, visit www.wwt.com.
World Wide Technology Media Contact
Melissa Sidnell
Senior Account Executive
Flame Public Relations Ltd
Direct line: +44 (0)203 357 9741
Email: melissa@flamepr.com
Connect with WWT: Twitter | Instagram | Facebook | LinkedIn
About Juriba
Headquartered in London, Juriba is a developer of IT migration command and control solutions designed to revolutionize the management of enterprise IT transformation projects such as Windows 10 and Office 365. Their mission is to enable organizations to cost-effectively manage IT migration efforts on a global scale. They deliver on this mission by developing and delivering IT migration solutions for the world's largest enterprises, having successfully delivered over 5 million asset migrations to date. More information about Juriba is available at  http://www.juriba.com.