Are you considering a Digital Platform Conductor (DPC) for your organization, but you aren't sure if it pays off to be an early adopter this early in the game? Or have you decided to go for it, but you are having trouble navigating the waters of this newly defined market? Juriba has helped dozens of organizations reap the benefits of managing their Digital Workplaces in an Evergreen IT fashion.
Whether you need a platform to manage your IT infrastructure/estate or to protect your IT investments, you need to make sure you have the right solution in place. In this blog, we will discuss the key considerations when choosing a Digital Platform Conductor as an early adopter and how to make sure you are making the best decision for your business. So, read on to find out more!
What is a Digital Platform Conductor?
At the end of 2022, Gartner revised its software market segments to include Digital Platform Conductors (DPCs). This new market category refers to tools meant to "coordinate the various infrastructure tools used to plan, implement, operate, and monitor underpinning technology and services for applications and digital products." DPCs coordinate different Hybrid Digital Infrastructure Management (HDIM) tools to provide Infrastructure and Operations (I&O) leaders with a unified, holistic view of their digital infrastructure and dependent applications.
With the help of a DPC, I&O leaders can plan, implement, operate, and monitor the underpinning technologies and services on a strategic level. Additionally, it enables them to assess each IT asset's contribution to business value regardless of who uses them or where they are located. As a result, DPCs provide strategic input on how to get better value from infrastructure.
What does the current DPC market look like?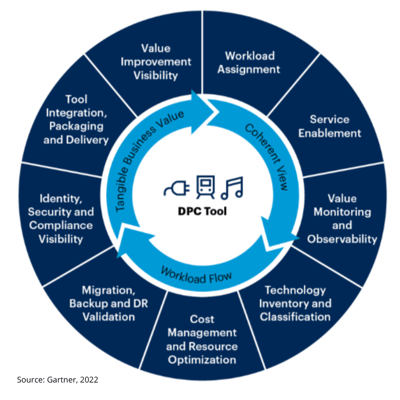 The Digital Platform Conductor market is still in its infancy. Consequently, the market's interpretation and understanding of a DPC is still very fluid. For the past few years, organizations have increasingly used various tools, such as IT Operations Management (ITOM) tools, to manage their cloud/edge/on-prem infrastructure and software assets.
Vendors whose products cater to this increasing complexity have typically focused on those issues with the greatest value. For example, the ability to orchestrate and action from one tool into another based on certain criteria being met. While many of these tools continued to thrive, the vendor toolset or platform did not fit into an existing market segment until Gartner defined the DPC category.
As an early adopter, you will need to keep several things in mind when evaluating different DPC offerings:
Some vendors are not yet categorizing their DPC-like tools as such, so you might need to do some research to find the right tool.

To better define a DPC, Gartner has defined nine essential capabilities that make up a DPC. There is recognition that no single vendor is an expert in every one of these and an expectation that this value will be achieved through intelligent integration. Consequently, most vendors looking to market a DPC will focus on the value proposition (namely, providing a cohesive view, workload flows, and tangible business value).

No tool currently offers the full range of required DPC capabilities to deliver the expected value.
You might need to purchase various tools or packages to get the DPC capabilities you need, so you will inevitably buy functionality you don't need.
Each vendor emphasizes DPC capabilities related to their specific background, which results in significantly differentiated offerings.
Considering all this, it will be impossible to compare apples to apples, making the purchase decision harder. For example, Gartner identifies Amazon Web Services, HCL's DRYiCE, and Cloudsoft as DPCs, but the wide remit of DPC capabilities means that your solution may need multiple DPCs to provide the full business value.
What outcomes can I expect as an early DPC adopter?
Organizations that purchase a DPC platform as early adopters will not be able to reap the full spectrum of what more mature tools in other spaces will be able to deliver. Nevertheless, there are still benefits to be gained from being an early adopter.
There will be plenty of quick wins. One of the significant early benefits is that organizations gain a cohesive vision across their entire IT landscape. But it is essential to understand that this is a long-term, strategic investment as a DPC sets the foundation for future improvements. In fact, Gartner estimates that:
"By 2026, 75% of DPC tool adopters will be consistently successful at demonstrating I&O business value, versus 25% of nonadopters."
Likewise, DPC vendors, being in a new market category, will be incredibly open to roadmap ideas and discussions. As a result, product development will be fast and input levels can be significant, with benefits on the table for those forward-thinking organizations looking to achieve immediate benefits.
Down the line, through best practices, templates, and establishing processes, you start to make changes to move things forward (which Gartner calls workload flows and Juriba refers to as smart automation and orchestration). This is all about gaining efficiency. Some toe-in-the-water vendors that have specifically designed their DPC offering on a particular use case or business problem can achieve this step. One example is Juriba's DPC, which is designed explicitly for managing Digital Workplaces.
The most significant long-term value is achieved when you reach full Business-as-Usual (BAU) maturity with the DPC managing 80-90% of your IT operations. This is when everything that happens in your environment triggers an action that maintains or improves your state.
How do I choose a DPC as an early adopter?
There is no doubt that a DPC offers tremendous benefits for early adopters in the correct scenarios. Given the diversity of available tools, identify the use cases you would like to start piloting a Digital Platform Conductor for, e.g., Digital Workplace management or cloud migration. The ideal scenario requires you to have a cohesive view across your IT infrastructure/estate.
Choose a tool that offers the IT management capabilities required for that use case as part of the DPC platform, or that can be purchased from the vendor. Also, pick a solution that gives you complete flexibility and has the biggest promise of protecting your IT investments. In other words, look at their integrations, partnerships, and product roadmaps.