Juriba & RealmSoft join forces for SITS13
Juriba are hugely excited to be exhibiting at The Service Desk & IT Support Show (SITS13) in London next week and warmly welcome you to come visit us there. But at this show, we've got a little twist: we'll be co-exhibiting alongside our friends at RealmSoft, the specialists in IT change. And of course, we'll once again be providing some great fun and games with both a 'Crack the Code' competition and a Twitter Contest, in addition to sharing our expert insight into managing desktop transformation/change projects.
Returning to London's Earls Court on 23-24 April, SITS13 is the UK's leading IT service management & support event and will showcase innovative and exciting solutions and services, unrivalled networking opportunities and a complimentary and comprehensive education programme. With less than 365 days left until Windows XP support ends (!), The Service Desk & IT Support Show 2013 is the opportune moment for IT professionals to see for themselves how their enterprise can significantly reduce the cost and manual process involved in managing Windows 7/8 migration and desktop change by embracing Juriba & RealmSoft's joint solution.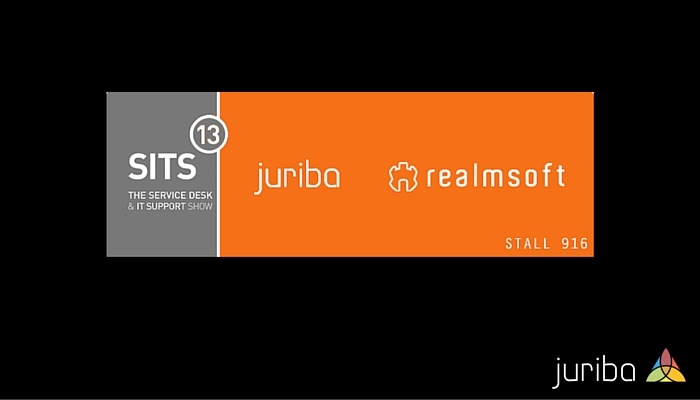 In collaboration, Juriba and RealmSoft software, provides IT decision-makers with advanced project management and reporting capabilities, whilst enhancing business engagement through targeted communications, video and self-service end user scheduling. The result is a system that enables you to deliver desktop change to your end users in the most effective way. The collaboration brings together two best-in-class products that fit together seamlessly, facilitating centralised change management with dynamic end user engagement.
Speaking ahead of the show, Tim Genge, founder of RealmSoft, said, "We're immensely passionate about crafting solutions to help large scale IT projects deliver better than ever before. Juriba are a great team with the same objectives and great synergy. We're really excited to team up to provide an end to end project delivery solution; allowing us to provide excellent tools for the Project Team to handle the complexity of big change – such as enterprise Windows 7/8 migration – while engaging the business with rich communications and self-scheduling."
Located on stall 916, Juriba & RealmSoft experts will be on hand to engage with visitors and provide product demos throughout. If you are looking for your solution to enterprise Windows 7 or Windows 8 migration, we're on hand to help at SITS13.
About Dashworks
Dashworks from Juriba is an all-in-one data warehouse, application compatibility, project management and user migration solution. It automates many of the tasks involved in Windows XP migration to Windows 7 and utilizes the analytics data from Centrix WorkSpace to deliver a best practice methodology for project management based on an organization's installed base. Using advanced data warehousing techniques, Dashworks enables project managers to quickly build a data driven view of the organization's users, computers and applications. Layered business driven feeds provide enhanced analytics and compatibility analysis, accelerating the project planning phase and identifying quick migration wins.
About Immanus
Immanus from RealmSoft delivers targeted communications right to the users desktop, at the moment it's needed. It features the Change Hub – allowing users to easily engage with changes affecting their computer or themselves, creating a consistent look and feel across all your disruptive changes. Users can also choose their own implementation dates right from their desktop, helping to minimise business impact and resistance to change.
Attending SITS13? You may find the following resources helpful:
SITS13: http://www.servicedeskshow.com/
See who else is attending: http://www.linkedin.com/groups/SITS13-Service-Desk-IT-Support-4756727/about