Juriba is excited to announce that it has recently been awarded Gold competency status (the highest level of proficiency awarded by Microsoft) in Business Intelligence, to add to its Gold competency status in Application Development (formerly the Independent Software Vendor competency).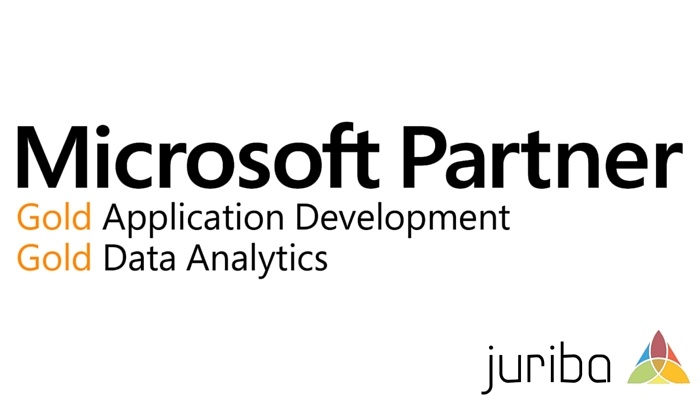 The achievement of the Microsoft Gold Business Intelligence competency arrives after Juriba's demonstration of greater value to its customers by showcasing best-in-class capabilities that have undergone a rigorous and auditable approval process. In addition, the Microsoft Independent Software Vendor competency which Juriba achieved Gold competency status in last year has since been replaced by a new Application Development competency, which Juriba is delighted to have completed all the tests for to maintain its Gold status for another year.
Discussing the achievement, Barry Angell, CTO at Juriba stated, "It is fantastic to not only maintain our Gold status in one competency, but to add a further Gold to our name. Being among only one percent of Microsoft partners across the globe to have attained the highest level of proficiency is fantastic endorsement for all the effort we have put in to building Dashworks on Microsoft technology, and in supporting Microsoft technology utilised within customers' desktop management framework."
In order to achieve gold status, Juriba had to complete some rigorous tests including product certification, employing Microsoft qualified personnel, gathering customer satisfaction surveys and working with customers to provide references for successful Dashworks implementations across the globe. The attainment of both competencies further cements Juriba's strong relationship with Microsoft, and the company's commitment to helping Microsoft customers get migrated to the latest desktop operating systems.
Juriba's Dashworks product has successfully readied over 1,300,000 enterprise users globally for deployment to Windows 7 and virtualisation technology. In helping both direct customers and service integrators alike to reduce the risk, cost and resource required to manage the migration, Dashworks continues to accelerate the fastest migration programmes in the world.