It's time to get the ball rolling with desktop transformation - here's 10 tips to get you started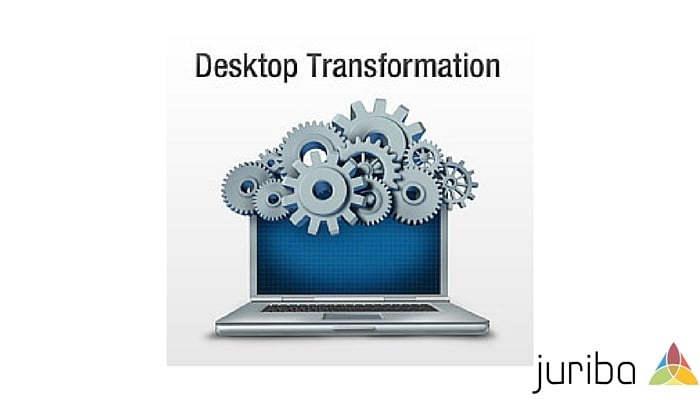 When Windows 7 was released towards the end of 2009, the world was relaxed. Four years and a bit left to migrate from the ageing Windows XP operating system. No rush. Nothing to worry about here.
Now it's March 2012. There are roughly 740 days left before Windows XP goes end of life. That's 470 working days to have completed your enterprise Windows 7 migration. If your organisation has 10,000 users, you need to be moving an average of 21 per day. Certainly not time to panic yet, but that number is going to start rising sharply with every week that goes past.
Are we talking about the end of the beginning? There comes a time in every project lifecycle when, to coin a Citrix phrase, organisations must start moving from 'how' to 'wow'. In other words, it is time to stop thinking and start acting. Right now, you probably have just about enough time to get your transformation done, but that time is running out.
Juriba has been helping organisations migrate to Windows 7 and virtual platforms for the past 2 years. In that time we've pretty much seen it all. We've been watching what works for different migrations and now we've come up with our top 10 strategic tips to ensure migration success:
1. Build a central data warehouse
A central Windows 7 migration data warehouse underpins your entire project. It is the single, authoritative version of data truth. It can accelerate project planning and analysis by using data to drive better decisions. Without it, you are inefficient, burning resource time managing and manipulating data rather than focussing on project delivery.
2. Agree your big programme rules
The PC is, by its very nature, personal. This creates a problem when managing thousands of user migrations. This is why the best programmes set corporate wide rules for their projects. Supported hardware, target platforms, deployment strategy, end-user involvement. These are just some of the items that need to be set at a global level and sponsored by the executive. Get it right and everyone will benefit.
3. Identify your green users for compatibility
There is little that can accelerate enterprise Windows 7 deployment more than a good understanding of which users are compatible for Windows 7 migration (your 'quick wins') and what needs to be done for the rest of the estate to get it to a green status. To achieve this goal, you need to be able to link users to computers to applications efficiently, and apply your rules across the data. Taking a data driven approach to planning will help you to focus your team on the areas that can deliver greatest transformation success and get you migrating fast.
4. Build centralised application discovery and rationalisation capability
Our recent poll suggested that application discovery and rationalisation was the single best way of accelerating desktop transformation. Experience suggests that this area can also cripple migration progress whilst teams get stuck in analysis paralysis, and struggle to get their arms around the mountain of data. The best example we have seen focussed time on a centralised function that chipped away at the problem.
5. Understand application currency and compatibility
I used to think that application compatibility was everything. Now I'm not so sure. You can get 50% of the way there by simply understanding application currency (i.e. does the vendor support the app on the new OS). Many organisations have tested apps for compatibility that were never going to work on Windows 7. So our advice has changed in the past two years. Now we would recommend an investigation on all your vendor apps first, leaving compatibility testing to only those business applications that warrant it.
6. Deliver data driven application prioritization
As Naran McClung states on a recent guest blog, it is very rare to see a desktop migration that is application led. However, it is widely recognised that the most common cause of deployment stall is application readiness. Therefore, our advice is strongly to find a way of identifying and refreshing your application prioritisation list. The most expensive programmes are the ones where the apps team are readying packages for tens of users. The least expensive are the ones that target the top apps that give the biggest programme benefit in terms of green users.
7. Build single version of project truth
Project managers can often be their own worst enemies, and regularly become the cause of catastrophic programme failure. The reason is that effective project managers need a good, consistent platform with which to manage consistent process and desktop migration reporting. There are millions of spreadsheets out there managing enterprise Windows 7 migration today, causing confusion, out of date analysis and governance hell. The simple truth is that single systems drive behaviour and governance. If the right investment is made, migration planning and analysis can be vastly improved.
8. Understand real-time project change impact
Every day in big migrations, the thousands of interdependencies mean that schedules have to change. This creates knock-on impacts all over the programme. For large scale rollout to have any chance of success, the impact of something changing has to be quickly understood. Too often does the tail wag the dog with project managers doing what I can only describe as 'chasing the ball' in the same way an under 7's soccer team would. Every day is a different ball moving in a different direction because of the lack of change understanding. A centralised approach is the only way to effectively manage change in major transformation projects.
9. Build automated task management
Automation is often a big objective, but one that rarely gets past the starting block in terms of readiness tracking. Sure, you can easily automate build processes, image deployment, user profile migration and the like. That's a given. But what can also save you significant time is the automation of readiness flags – tasks completing that enable a user to be scheduled for migration. Here's an example; user A needs to be a member of active directory group B as a pre-requisite to the Windows 7 migration. Some companies will pay a resource to check group B daily and manually update the flag in spreadsheets. Automation of this piece can save thousands of man hours, replicated hundreds of times across an entire project for task status tracking.
10. Inclusive end-user / business engagement
This one is all about perception. Your programme success is controlled by a minority who have a voice to the senior management. You can do a fantastic job, meet your deadlines and budget, and still be a disaster if you don't manage the project perception. So what's the best way of managing something so intangible? Great user, and business engagement. As with many things in life, if you have some level of say and control, you're generally bought in to the objective. Whether you are a business contact looking after a specific department, or an individual user being readied for migration, you want to know what is happening. Communications, marketing, engagement and self-service are critical. Get it right, and like the duck calmly floating across the water, there can be some furious paddling below, but if what's above water is managed well, you can manage perception much easier.
Have any strategic tips for migration success of your own? Why not share them below or in our Windows 10 Project Management Group on LinkedIn?