Technology leaders enable North Hertfordshire College to migrate faster.
London, 09 February 2010 - ChangeBASE AOK Limited the global leader in automated application compatibility testing and remediation and Juriba Limited, specialists in Windows-based migration management software, today announced a strategic partnership that will see North Hertfordshire College migrate to the Windows 7 operating system.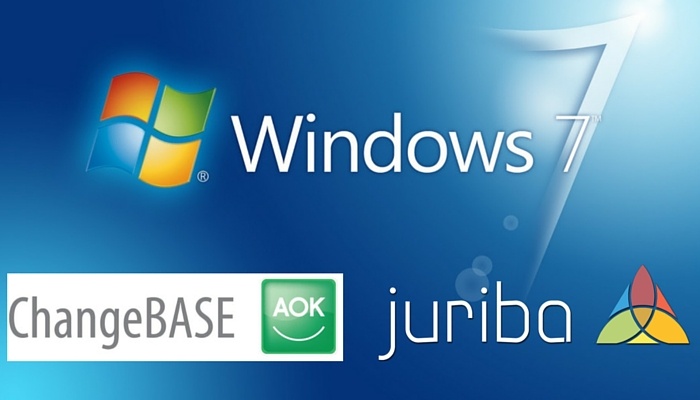 Following a period of consultation in which ChangeBASE AOK and Juriba advised North Hertfordshire College's IT managers on strategy and planning for its operating system migration, the college has now decided to work with the partners to oversee the entire migration process. The extensive project covers the College's entire IT network, which includes six campuses, 2,700 PCs, 11,000 users and 100-plus core applications.
"The challenge we faced was how to effectively and efficiently migrate all our PCs and applications to Windows 7 in a timely and cost-effective manner," explains Matt Greening, Head of IT, North Hertfordshire College. "By running a Windows 7 Proof of Concept with ChangeBASE AOK and Juriba we were able to understand which of our PCs and applications would cause us problems. The ability of ChangeBASE AOK to automatically fix application issues and the business intelligence that Juriba's Dashworks delivers makes the whole migration process so much more efficient and cost effective."
The Changebase AOK platform quickly identifies and automatically fixes any application compatibility issues that are faced during a software installation or migration project. Juriba has integrated ChangeBASE's AOK platform into its business intelligence technology suite, Dashworks, allowing the partners to manage the College's upgrade to Windows 7 as efficiently as possible.
"As specialists in helping organisations to save time and money when migrating to Windows 7, Juriba is committed to finding our customers the best solution for their specific needs," says Barry Angell, Director, Juriba. "Application compatibility is often regarded as the biggest hurdle in making the transition to a new operating system, and ChangeBASE AOK ensures this aspect of migration is managed as efficiently as possible. As partners, we have integrated both our technologies to ensure that North Hertfordshire College's students and staff can reap all the benefits of Windows 7 as quickly and cost-effectively as possible. We are delighted to be working with ChangeBASE AOK on this project, which will ultimately help the College to deliver its students enhanced training and courses using state-of-the-art Windows technology."
"When IT managers are looking at managing the migration of an operating system across thousands of users and thousands of computers it can seem a complex and daunting proposition," says Colin Gray, Sales Director, ChangeBASE AOK. "However, this doesn't have to be the case. By working with Juriba and ChangeBASE AOK the North Hertfordshire College is able to centralise all of its critical end-user information, which in turn means we are able to cut the time required for planning and implementation by a matter of months."
About ChangeBASE
ChangeBASE AOK is the market leader in automated compatibility software enabling organizations to simplify and speed up the time it takes to test, remediate and mange the migration process between operating systems or deployment environments. The company has developed a suite of software applications which bring tangible benefits and reduced costs to organizations across the globe.
About Juriba Limited
Juriba Limited is a leading software development and data warehouse specialist. The company provides innovative business intelligence software and service solutions to support management and upgrade of the enterprise desktop environment in some of the largest global organisations in the world. Juriba has developed a product called Dashworks that makes planning and delivering Windows 7 migrations fast, accurate and low cost. For more information, please visit; www.juriba.com.
For further information, please contact:
Kate Hyslop / Emma Bridgeman
Rocket PR
Tel: 08453 707 024